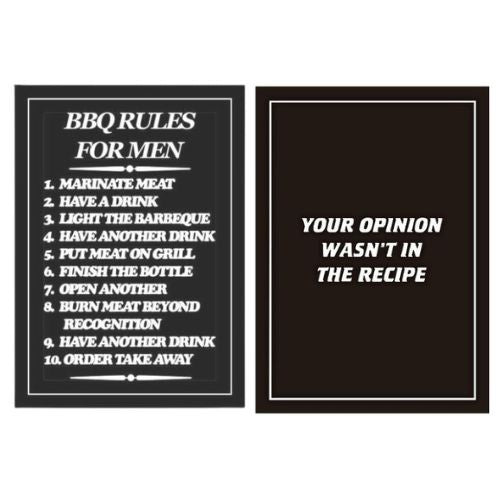 BBQ Rules/Your Opinion Tea Towel Twin Pack
Original price
$24.90
-
Original price
$24.90
BBQ Rules/Your Opinion Tea Towel Twin Pack.
2 Pack Black Cotton Tea Towels.
BBQ Rules for Men.
MARINATE MEAT.
HAVE A DRINK.
LIGHT THE BARBEQUE.
HAVE ANOTHER DRINK.
PUT MEAT ON GRILL.
FINISH THE BOTTLE.
OPEN ANOTHER.
BURN MEAT BEYOND RECOGNITION.
HAVE ANOTHER DRINK.
ORDER TAKE AWAY.
Your Opinion.
YOUR OPINION WASN'T IN THE RECIPE.
Measuring approximately 70cm x 50cm.