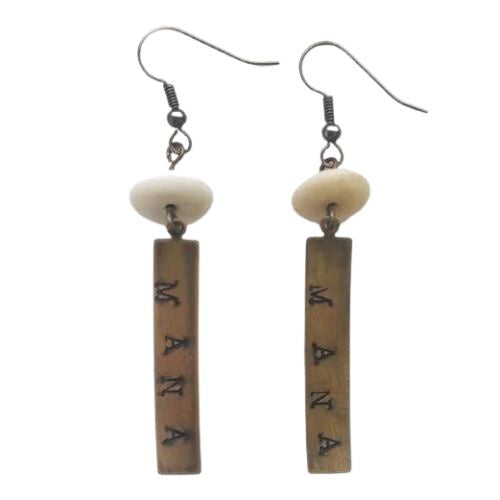 Mana Earrings
Original price
$95.00
-
Original price
$95.00
Mana Earrings.
The Mana earrings feature bone and stamped brass to form an elegant statement of identity. The earrings are aged to carry the richness and heritage of the kupu 'mana' for the person wearing them.
Mana. Named for the enduring innate power gifted to us by ātua and inherited at birth. Through our deeds and decisions we build upon or diminish it. Designed to remind us of this gift and the responsibility and power it carries.
DIMENSIONS: 70 x 120mm.*

MATERIALS: Bone, antiqued brass plated brass plaque, nickel free antiqued brass plated earring hooks (base metal brass), antiqued brass (brass base) eye or head pin, jumprings nickel free antiqued brass or bronze plated (base metal brass or steel) and/or antiqued brass or bronze plated (base metal steel)

COLOUR: Brass and Bone.
* Measurements are approximate. The items are handmade so there will be slight variance between each item. Many of the pieces use natural components so some variance can also be attributed to this.