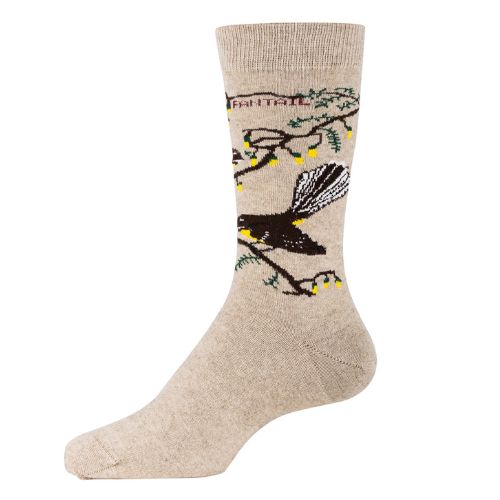 Possum & Merino Fantail Socks - Beige
Original price
$32.00
-
Original price
$32.00
Possum & Merino Fantail Socks - Beige.
Kiwiana inspired pictorial socks featuring imagery of New Zealand native flora and fauna, such as the Fantail are on these sox.
About Possum Merino:
Once you've tried it nothing else will feel as warm and soft. Possum Merino is a wonderful blend of possum fur and New Zealand Merino wool with a texture similar to cashmere - luxuriously soft, incredibly lightweight, exceptionally warm and easy to wear. It won't pill, it won't wrinkle, it's anti-static and is an innovative and practical market solution to an environmental challenge facing New Zealand.
Due to its hollow nature, the possum fur fibre is incredibly insulating and provides exceptional thermal warmth without weight. Research has shown that it is 55% warmer than Merino and 35% warmer than cashmere.
New Zealand Merino wool is renowned for its skin-friendly softness, all-seasons breathability and easy care durability. It combines beautifully with possum fur to create garments of exceptional warmth and quality that are incredibly good value.
Care Directions:
Please follow those on care label attached to the garment. Warm hand wash with a gentle detergent. Warm rinse well. Lay flat to dry in the shade. Do not bleach. Do not tumble dry. Drycleanable.
Colour - Natural.
Blend - 80% Merino, 18% Nylon, 2% Lycra.
OSFM One Size Fits Most.
100% authentic made in Norsewood, New Zealand.