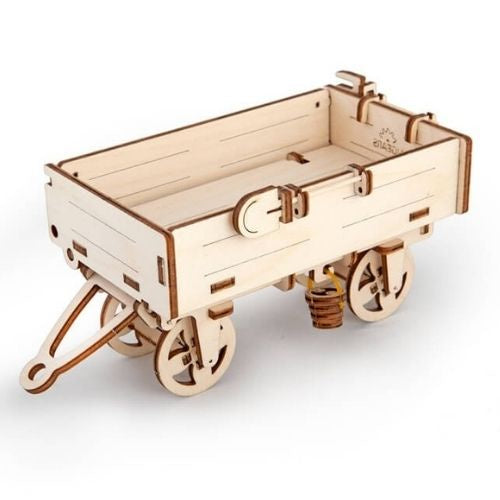 UGears Tractor's Trailer
Original price
$74.90
-
Original price
$74.90
UGears Tractor's Trailer.
Ugears Wooden 3D Puzzle Tractor's Trailer for Tractor Model
Every self-respecting tractor needs a trailer, and this one comes with everything a farmer needs: a pitchfork, a shovel and even a bucket and broom. The trailer's side gate opens at the push of a lever for quick loading and unloading.  A crank at the front tilts the bed for easy dumping. Hook together your Trailer and Tractor and head for the fields.
Key features:
3D SELF PROPELLED MODEL TRAILER - this Mechanical 3d Puzzle Tractor Trailer by UGEARS will please all fans of puzzles and handicrafts. Best and different models only. Build with UGEARS!
ADDITION TO THE TRACTOR - we're really glad to present you this addition to our Tractor model. We are trying to expand our range and create new addition models to already existing and successful.
PREMIUM QUALITY - we really care about the quality of our products, and always offer you the best one. All our models are produced according to all quality&safe standards and are made with 100% natural non-toxic plywood!
FAMILY PROJECT - assembling our models is the best way to spend time with your children on a rainy day, learn something new together and become a part of one big family building team. Handmade toys are always the best and recall memories about that weekend you made it.
BRAINTEASER - this construction kit really requires some mechanical skills and logical thinking. But even if you're the beginner, our step-by-step instruction will definitely help you with that
Product description:
Every self-respecting tractor should have its own farm trailer. A special lever opens a side of the Trailer's bed for loading or unloading. It also has everything a farmer needs at hand: a fork, a shovel and even a broom and a small bucket hanging underneath the base. Each Trailer is complete with a hook interface which connects it to the tractor. 
Quick and handy operation - a special lever can be used to turn the trailer's side upside down. 
Realistic design - we have incorporated items required by a good handyman such as a pitchfork, shovel, bucket with screws hanging on a hook, and broom under the truck bed. 
A hook unit allows you to seamlessly attach the Trailer to the Tractor - no muss, no fuss! 
Unlike similar projects, this mechanical model isn't messy because there is no need for glue to hold the components together this aspect adds to the excitement while assembling the gadget. 
Self-propelled kits don't need electricity or special tools during setup. 
The Trailer is aesthetically pleasing to the eye and doubles as a decorative element in your home.  If you don't have the Tractor model yet, buy it with the Trailer so you can complete the set. In case you intend to purchase it as a gift, it looks better when presented as a package rather than individual wooden mechanical kits - it exactly like constructing a miniature of its bigger version. Moreover, this is a versatile gift, which is suitable for both kids and grown-ups.
Size of the model after assembly: 8.2 x 4 x 3.8in  21 x 10 x 10cm.
Self-assembly: No glue required.
Trailer:
Tractor's Trailer Mechanical Model Kit.
Model size: 8.2 x 4 x 3.8 in (20.9 x 10.1 x 9.6 cm)
Package size: 14.6 x 5.5 x 1.2in (37 x 14 x 3 cm)
Number of components: 68.
Estimated time of assembly: 1-2 hour.
Level: Easy.